Over the years the Society has published a number of books, most of which are still in print, and available exclusively through MBSGB. These are valuable reference works for the collector or enthusiast and serious researcher alike.
The society also publishes it quarterly journal The Music Box
To order any of the publications on this page download the Word Doc or PDF or Order direct from our Online Shop
Musical Box Tune Sheets and Supplements
Originally published in 2000, this 153-page A5 size book contains images of 216 musical box tune sheets ('cards'), described and identified by H A V Bulleid, along with dating charts and other information. Since its publication, four supplements compiled by Anthony Bulleid and Tim Reed, to include revisions to the dating charts, and three Search Engines by Luuk Goldhoorn, have been published, with details and images of now over 500 sheets. This is an invaluable aid to identifying the maker of a cylinder box. Available exclusively from MBSGB as a complete package for £10.00 plus P&P or, please enquire at info@mbsgb.org.uk for information on obtaining individual elements of this library.
The Nicole Factor in Mechanical Music
by A D Cunliffe, P Bellamy and R Ison
Published in 2006 with 252 pages A4 size, this is a concise history of the Nicole family's involvement in and development of the cylinder musical box industry during the 19th century.
Price £40.00 plus P&P
The Organette Book
by Kevin McElhone
(Celebrating Musical Box Society of Great Britain's 40th anniversary)
A concise listing of all known self-playing portable reed organs. Over 560 models, 440 pages, 770 pictures and diagrams, including colour section. Tuning scales, restoration tips, history of makers and much more.
Sold out - pre-owned copies may be available on various internet sites.
The Disc Musical Box Book
by Kevin McElhone
Published in the MBSGB 50th anniversary year, this 500+ page A4 size book is a compendium of information about disc musical boxes, their makers and their music. It is profusely illustrated throughout, and complemented by a DVD of catalogue scans, lists of models, patents and tune lists and additional illustrations. Kevin McElhone was prompted to compile this book by his own observation that such a work would be invaluable to someone thinking of starting a collection. Now exclusively available from Kevin directly.
Price £50 plus P&P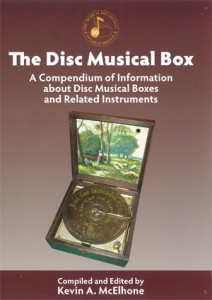 The Anatomy of a Singing Bird Box - DVD
This film shows in detail the method of operation of a high quality, fusee type, singing bird mechanism made by Jacques Bruguier, together with the various issues which arose during its restoration. Details of its setting up and adjustment are made clear, and the requirements of good practice and restoration ethics are explained.
It is not intended to be an instructional film on restoration, but it will serve as an introduction to anyone interested in owning or servicing such mechanisms, and explains the requirements for knowledge and appropriate skills.
Running time – 26 minutes
Format 16:9 wide screen DVD. PAL TV
Price £10 plus P&P