STOP PRESS
A short video of a delightfully entertaining harmonium player automaton can be viewed below

TWO NEW PUBLICATIONS FROM MBSGB
Supplement to The Organette Book
Supplement to The Disc Musical Box Book
(Originally published in 2012 and still available to purchase)
Both Supplements compiled and edited by Kevin McElhone
See Publications for more details Publications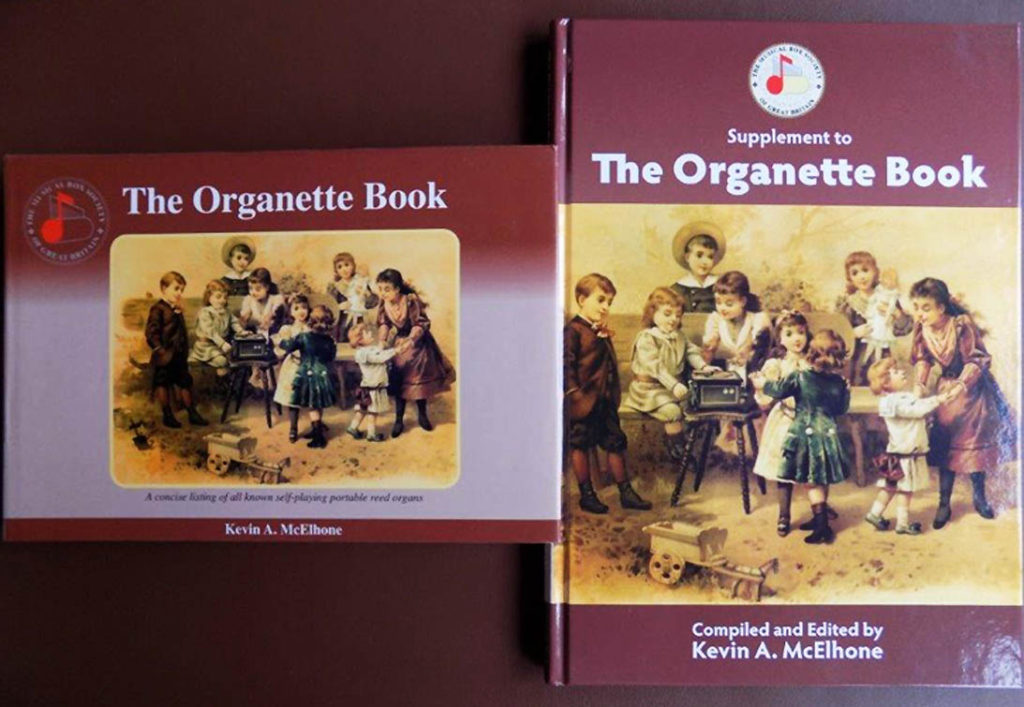 Details and Order Form
https://www.mbsgb.org.uk/publications/
https://www.mbsgb.org.uk/publications/order-form/
Musical Box Tune Sheets are now ON-LINE
The original book and all supplements as a single document
Try it out

HERE
*****NEW! - Special Introductory Offer*****

Subscription rate for anyone under 30 now only £18 with full benefits
New Joiners (any age) - Try our Society at the Special Discount rate of £18 for your first year with full benefits
CLICK HERE for details

---
NEW  -  our Singing Bird DVD is now available as a download - HERE
Watch it and learn how these wonderful devices work
 ________________________________________________________________________________
Dr Emily Baines whose doctorate was based on the study of early mechanical musical instruments, and whose thesis was entitled 'The Ghost in the Machine', is working on a new project.  Follow this link to learn more:https://www.indiegogo.com/projects/the-ghost-in-the-machine-album-recording
________________________________________________________________________________
MBSGB members attended the DISS ORGAN FESTIVAL in May 2019, playing street organs, and providing an indoor display of Mechanical Music - Watch the Video.
---

***NEW***
Listen to mechanical music 24/7 on http://www.mechanicalmusicradio.com/
---
Read about the amazing and unique Orchestrion at Kinloch Castle in these two articles from the Spring 2018 edition of The Music Box
Queen Victoria's Orchestrion
The Imhof and Mukle Orchestrion at Kinloch Castle
---
Tune Sheet Book Fourth Supplement - published 2015, still available
The Musical Box Society of Great Britain published a Fourth Supplement to H A V Bulleid's The Tune Sheet Book in 2015.  This 80 page booklet in full colour brings the data on cylinder musical box tune sheets compiled by Anthony Bulleid and Tim Reed up to date with an additional 114 different examples, by kind permission of sister Society the Musical Box Society International in whose journal, Mechanical Music, most have previously been published.
Available free on request to all existing owners of the original book. The original book and all four supplements may be bought for £10 plus P&P (Original published price £18. See Publications page for more details.)
Why not join now?

NEW PUBLICATION NOW AVAILABLE!
The Musical Box Society of Great Britain is pleased to announce a new book in English about cylinder musical boxes, the result of collaboration between it and 'sister' organisation, Musical Box Society International.
Following the publication in 2017 of Dr Helmut Kowar's book Spielwerke Aus Prag Und Wien the possibility of an English version was mooted by MBSGB member, Mark Singleton.  The publisher, the Austrian Academy of Sciences Press, intimated that although willing in principle, any English version would be contingent on the Academy finding sufficient external funding for the production costs.  Following discussions between MBSGB, MBSI and the Academy, it was agreed at the 2018 Annual General Meeting of MBSGB that the Society would fund 50% of those costs - if MBSI would match it!  MBSI subsequently rose to the challenge, and we are proud to announce that Dr Kowar's book is now available in English.  Musical Boxes from Prague and Vienna, published as before by the Austrian Academy of Sciences Press, is fully revised and expanded with additional historical and biographical details.  At 246 pages, with full colour photographs of musical movements, cases and tune sheets, musical scores and an extensive catalogue, it features new material on a number of movements which have come to light since the original German version was published.  The published price is €79 (euros.) To register your interest in a copy, please email us: info@mbsgb.org.uk, stating whether you are a member or not, and the geographical location you would like it sent to.  We can then calculate the postage and packing, the price in pounds, and advise you how to make payment