Local Groups
There are currently 4 Local Groups,
MIDLANDS, TEME VALLEY WINDERS, WESSEX, LONDON & HOME COUNTIES
The following gives more details and latest reports from each group
MIDLANDS Group (meets at a variety of locations across the East Midlands)
Next meeting - 14th October 2017, Derby 11:00 am
Latest meeting report
The meeting started with a non-musical mechanical object, this being a vintage tinplate toy by Lehmann of Germany.  The 'Tut-tut' is a particularly collectible toy comprising a man driving a car whilst blowing his trumpet, and dates from 1903.  The car moves erratically along, steering this way and that whilst the man blows his trumpet. Two Polyphons, were demonstrated, both playing 11½" discs, but sounding completely different, showing the difference between the single and double comb models.
A rare 4½" Symphonion manivelle was demonstrated which played a 20 note disc.  These looked similar to the more usual 30 note discs used by the similar model, often found as part of the Symphonion carriage clock, but obviously are not interchangeable. Two larger cylinder boxes were played, the first a sublime harmony box by Conchon with an 11" cylinder.  It plays six operatic tunes, including La Traviata and Carmen, then a Nicole Freres with a 13" cylinder playing eight operatic tunes.   It plays favourites from Verdi, Bellini, Rossini and Gounod. Our host demonstrated his Hupfeld Helios orchestrion, which he has spent the last three years working on.  This was bought from a guest house in Bavaria, where it was installed new, sometime around 1920. Other instruments in the collection were also played.
TEME VALLEY WINDERS (Based in Worcestershire but also covering surrounding areas)
Next meeting 2nd December 2017, 11:00 a.m.

Latest meeting report
Several cylinder boxes were demonstrated including a "Super" mandolin box. The "Super" identity was defined by Anthony Bulleid as being mandolin boxes with groups of at least 8 teeth tuned to the same note enabling the note to be sustained for as long as required. The box demonstrated had groups of 9, 8, 7 and less and played 4 tunes on 186 teeth. Another cylinder box had an unusual speed governor which was circular with 3 vanes. A 20th century Reuge item was shown which has two dancing dolls which twirl to the music. This effect is achieved by the dolls being lifted up and down by the mechanism, and twirling because of their uneven leg lengths, a frequently found Swiss innovation.
An interesting Jungens musical clock was shown which had a small Symphonion disc playing movement mounted vertically below the clock. These clocks usually have the movement mounted horizontally under a lid at the top. Aspects of the clock also indicate that it may have originally been lever wound but later changed to key wind.
A large singing bird in a cage which was undergoing restoration was shown enabling everyone to see the (now working) mechanism for the song, as well as the original feathering of the bird which was awaiting new feathers. A nightingale box was also demonstrated (these are plain boxes which play the song of a nightingale). Music was also provided by piano rolls during the day.
WESSEX (Hampshire and surrounding area)
Next Meeting: 21st October 2017, 10.00 a.m. - 3.00 p.m.
Venue: Gilbert Room, Twyford Parish Hall, Hazeley Road, Twyford, Winchester, SO21 1QY
Doors open just after 10.00 for refreshments, etc.
Once again we are expecting about 20 members and guests for a fun day of looking at, listening to and talking about mechanical music, with the opportunity to catch up with old friends and make new ones. Bring your own packed lunch, and anything you wish to show/talk about. Hot drinks & squash provided. The theme for this occasion is 'America' (any item made in America, or featuring American music, or any other connection) - or any topic or item of your own choice.
Further information from: info@mbsgb.org.uk
Latest meeting report
The suggested topic for the day was 'early music.' This was featured on a fine Nicole 12 air, two-per-turn 'oratorio' box, and included an exceptionally fine arrangement of the Hailstone Chorus; a four-air piano forte Nicole Frères 'sacred airs' box, and a piece from Mozart's Marriage of Figaro on a Paillard mandolin box. (This last box is the one playing on the 'Home' page of the MBSGB website.)
Other featured cylinder boxes include a fine example of a Nicole Frères cylinder box in a walnut case, with the comb stamped 'F. Nicole' and with the serial number 22165. This suggests that surplus François Nicole combs were being used by other makers after he ceased production of boxes. Another unusual feature was the tune sheet, which appeared to be the box's original sheet, but had all the appearance of belonging to Lecoultre rather than Nicole. Also an 'alternate tip' Paillard, playing 10 airs of a very random selection of tunes popular from throughout the 19th century.
Disc musical boxes presented were an exquisitely sounding 13 ½ inch Orpheneon, a Kalliope 7 5/8 inch with bells (demonstrated with and without the bells engaged), a small Celesta and a 15 ½ inch Regina.  By way of contrast, a 24 note street harmonium (reed barrel organ) was also demonstrated and discussed. As usual, there was a lot of catching up with friends and exchanging of ideas during the refreshment breaks.
LONDON & HOME COUNTIES
Meetings held alternately at: 
The Musical Museum, 399 High Street, Brentford. TW8 0DU
And St Marks Church Hall, Colney Heath, Hertfordshire, AL4 0NH (See here for directions)
Next meeting - 23rd September 2017, private collection in Kent
Latest Meeting Report - March 2017 - Colney Heath
When a meeting is held in a local hall rather than at a venue with a resident collection, it is always a concern as to how many instruments will turn up to demonstrate. This was not a problem at this meeting as there were in excess of 25 musical boxes, organettes, musical novelties and unusual instruments. We also had 4 films and presentations. As there were so many I will just give a few of the more unusual items which were demonstrated.
We had 2 very different 44 note Chordephons, but both able to play the same discs. We were given a talk on the history of Chordephons by a guest. The models shown were thought to be made in 1896 and 1897.
Ray brought along his late Grandfather's George Bendon musical box. Ray joined the society a year ago, to seek advice on how to restore it as it was rather distressed, had a broken governor and several tips missing, With the help of another member he was able to bring Granddad's musical box back to life. As this box had a tune sheet there was no need for us to try and identify the tunes, so instead Ray produced an excellent computer presentation describing the restoration and showing pictures to represent the tunes which we had to guess before they were played. A field of Scottish bluebells and an unhappy policeman were quite easy, some more difficult, but we got four of the six tunes.
One member brought several interesting items including a Nicole overture box and a lovely necessaire with a gilt frame and mother of pearl panels also a singing bird box with a clock above on pillars.
Roger, well known for his expertise on organettes played a rare Patent Gem Organette, manufactured by Maxfield of 326, Liverpool Road, London. For which he had to create the music from an instrument with the same scale, but on a much wider paper roll, as the ones which he had with the organette had been partially devoured by mice.
We saw an excellent film made of a trip to Germany in 2002 which showed several interesting musical museums. Another member showed a selection of pictures taken on a recent trip to Brussels, which was to celebrate his wedding anniversary, but he managed to slip in a few musical venues.
We had a presentation on how to do French Polishing, accompanied by PowerPoint slides which included film of the actual process.  David demonstrated his latest acquisition, a Kalliope 13" disc musical box. This had one comb with 60 teeth.  Phillip demonstrated his musical box which had the National Music Box tune sheet, but had markings to show that it was in fact made by Ami Rivenc.  Ray explained and gave a tune on his Rollmonica.
A pair of very different 44 note Chordephons   Ray with his grandfather's George Bendon musical box
Members enjoying a Nicole musical box                                  An impressive necessaire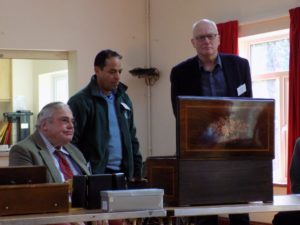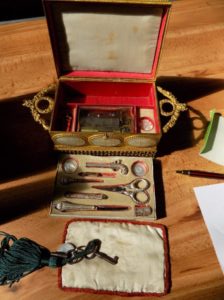 A Nicole with all the extras